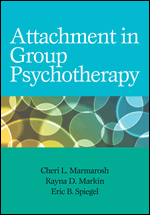 'Attachment in Group Psychotherapy'
Dr. Spiegel's co-authored book on attachment and group therapy.
This is the first well-informed and scientifically rigorous extension of attachment theory to group psychotherapy. It is a wonderfully constructed and imaginative text that is sure to become a clinically invaluable tool for all those who work with groups and an excellent introduction to students learning the art of psychological treatment.

– Peter Fonagy, PhD, FBA, Chief Executive of the Anna Freud Centre, and Freud Memorial Professor of Psychoanalysis, University College London, England
Marmarosh, Markin, and Spiegel offer an elegant, integrated approach supported by current research to demonstrate that, indeed, attachment theory is a worthwhile conceptualization that will help group therapists work with particularly difficult group members—those with insecure attachment patterns…Given the broad perspective, this book will interest group psychotherapists and organizational consultants as well as therapists who want a deeper understanding of how to think about and apply attachment-based interventions.

– From book review by PsycCRITIQUES
Chapter
'Hypnotic Treatment of Anxiety in Children and Adolescents'
Chapter 10, from the book 'Therapeutic Hypnosis with Children and Adolescents, 2nd Edition', Editors: Laurence Sugarman, M.D. & Bill Wester, Ed.D.
In this chapter, co-authored with Dr. Bill Wester, Dr. Spiegel describes treatment of anxiety and psychosomatic symptoms with his adolescent patients. Includes a case example on treating anxiety,pain, and insomnia in a teenager with chronic headaches.
Journal Articles (Recent)

Notice: compact(): Undefined variable: limits in /home/ericspiegelphd/public_html/wp-includes/class-wp-comment-query.php on line 853

Notice: compact(): Undefined variable: groupby in /home/ericspiegelphd/public_html/wp-includes/class-wp-comment-query.php on line 853